WE HOLD A PERMIT AND ARE DELIVERING THESE MASKS DURING COVID19 LOCKDOWN
BACK ORDER? – THIS MEANS THAT WE ARE CURRENTLY OUT OF PLASTIC AND WAITING FOR ANOTHER DELIVERY. IT USUALLY TAKES 5 WORKING DAYS THEN WE CAN START PRINTING AGAIN. YOU CAN STILL ORDER TO ENSURE YOU ARE FRONT OF QUEUE ONCE PRINTING COMMENCES!
The Goal of this mask is to make a low poly respirator that is stupid simple to operate and that uses a readily available/incredibly cheap filter mechanism requiring no cutting of material. (in this case makeup pads). The cotton pads, from research seems to block about 75% – I add 2x on my (Large) face mask without any need for cutting of the pad. So I receive extra filtration.
We'll include a elastic type filament strand as the holder of your mask to your head. Which is like a string and so far seems to work fine.
We'll contact you afterwards to confirm the size of your masks, alternatively you can do the measurement as below and indicate quantity of each size you prefer.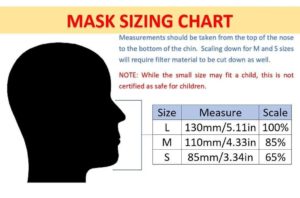 *** Check images above for additional measurements ***
Cotton Pads are readily available at pharmacies and supermarkets, see below example: